IBM Cloud Technology Expert to speak at Blockchain & Bitcoin Conference Berlin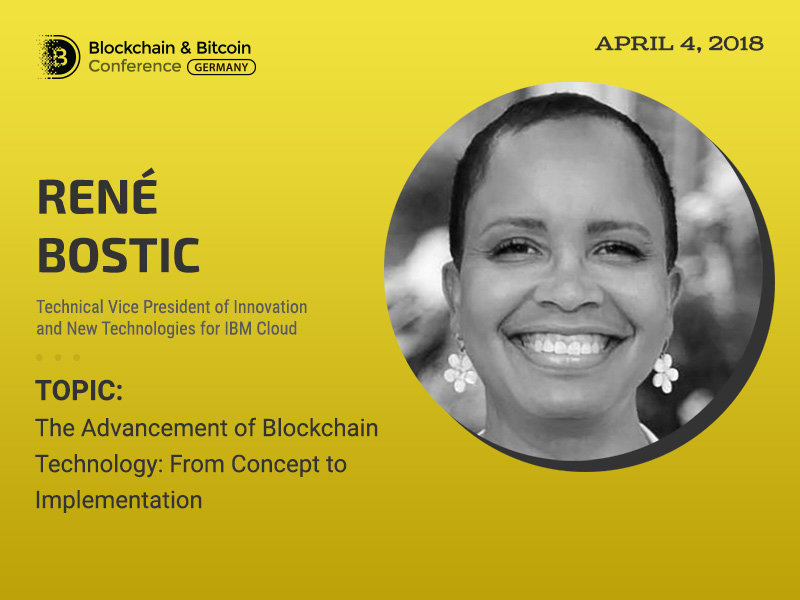 The future of Blockchain is the key issue for the industry. René Bostic, Technical Vice President of Innovation and New Technologies for IBM Cloud, will share her opinion about this point. At Blockchain & Bitcoin Conference Berlin, she will speak on the topic: The Advancement of Blockchain Technology: From Concept to Implementation.
Bostic believes that Blockchain will fundamentally change information swapping in business environment. Technology is being integrated into many sectors: fintech, retail, healthcare, government control. It is developed and explored by such IT giants as Linux Foundation, Microsoft, and IBM. The expert has conducted a case study of Blockchain and wants to introduce it to conference participants.
Presentation key points:
The key considerations for a successful Blockchain Implementation
A case study based on an active Blockchain Business Network
A Blockchain Reference Architecture
Bostic is an expert in cloud computing, DevOps, and new technologies, as well as a participant of conferences and exhibitions dedicated to cloud technologies (Gartner Enterprise Architecture Summit, Cloud Expo, Agile2017 Conference). She is a member of the Society of Women Engineers (SWE) and a member of the Society of Information Management (SIM).
Register to Blockchain & Bitcoin Conference Berlin